New Hartford
Aerospace Industry Recognition
The New Hartford and Dunkirk facilities in New York are industry leaders in the production of premium quality nickel base superalloys for both static and rotating aerospace and land-based gas turbine applications.
Primary Melting
Our Vacuum Induction Melting (VIM) furnace is our primary melting process. Its 45,000 pounds capacity makes it among the world's largest. In addition to servicing cast and wrought billet applications, we produce premium-quality re-melt alloys.
Cold Finishing
Special Metals' state-of-the-art cold finishing facility includes conditioning equipment for billet and bar surface preparation — ground or peeled. Billet and bar surfaces are finished to meet all varieties of customer specifications and inspection criteria.
Non-Destructive Testing
SMC conducts non-destructive tests including penetrant inspection and contact and immersion sonic inspection to ensure compliance to all specifications. Our C-scan immersion sonic inspection system for billet is among the newest in the world.
Secondary Melting
SMC's wrought alloys are remelted in Electroslag Remelting (ESR) furnaces and/or Vacuum Arc Remelting (VAR) furnaces.
Our VAR units are double station furnaces capable of melting ingots from 9-inch diameter by 1,000 pounds to 30-inch diameter by 20,000 pounds. ESR units capability range from 17-inch diameter by 4,000 pounds to 30-inch diameter by 30,000 lbs.
SMC is a leader in melting technology; this leadership translates into lot-to-lot uniformity and the highest quality products.
All of the secondary melting furnaces have modern control systems, many of which were developed by Special Metals.
As part of our commitment to continuous improvement and advancement of product quality, Special Metals continues to develop and implement new control technologies across all of our secondary melting furnaces.
Forge Operations
SMC's forging operation is located in Dunkirk, NY and is accredited to AS 9100 Revision C standards. In addition to servicing our New Hartford facility, toll conversion forging equipment/capabilities are available for iron, nickel and titanium based materials.
4,500T SMS open die press with state of the art networked controls coupled with two 12.5T GLAMA rail bound manipulators installed in 2014. Processing capabilities:
Ingots and RCS sections between 6" and 34" in diameter
Slabs from 6" to 34" width
CNC controlled 1,000MT Rotary Forge capable of forging 550mm ingots down to 100mm as well as slabs between 102mm and 305mm in width.
Integrated data control and collection systems providing and collecting forge data for each process step to ensure full conformance to requirements.
Overhead chargers providing rapid furnace-to-die transfer times.
Thermal treating capabilities that include a total of 21 modern furnaces surveyed to current AMS2750 standards for in-process heating operations.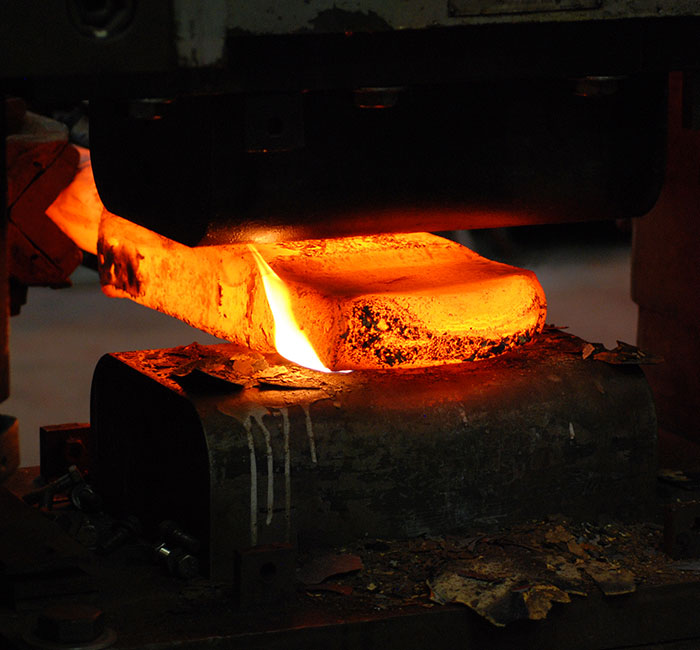 Laboratory Testing & Material Certification
Special Metals New Hartford maintains a full service, NADCAP and ISO 17025 accredited materials testing laboratory.
In house testing capabilities include:
Chemical Analysis
Spectrographic, atomic absorption and semi-quantitative analysis methods.
Metallography
Fully-equipped metallographic preparation and sample evaluation laboratory.
Physical Properties
Differential thermal analysis for determination of solid state transformation temperatures.
Mechanical Testing
Ambient and high-temperature tensile testing, stress rupture testing, creep testing, hardness testing on as-finished, heat-treated and/or roll down samples.
Superior Products & Services
Special Metals brings the leading names in metal together for extensive capabilities, products and services you won't find anywhere else.